This offer is not available in stores
A Safer Way For Elders To Stand And Sit
Sitting and standing gets more and more difficult the older you get, which is why the Portable Lift Aid™ is essential for your elder's safety. The Portable Lift Aid™ makes moving your elders more convenient due to its straightforward design and sturdy gripping handles.
Equipped with curved handles, the Portable Lift Aid™ provides a good grip for both the elder and the person that's assisting. This way, lifting a person's full body weight won't be too much of a challenge for anybody assisting.
Key Benefits
Portable design - Despite its multipurpose design, the Portable Lift Aid™ is extremely lightweight and easy to carry on the go. This way, you can be sure to give your elders the assistance that thev need wherever you go.

Ergonomic handles - With its curved design, both ends of the Portable Lift Aid™ are easy to hold onto. This prevents the user from letting go of the handle while being lifted up.

Durable structure - Even with its portable design, the Portable Lift Aid™ is extremely durable and heavy-duty, It is capable of lifting up more than double an adult's body weight with ease.

Versatile use - Whether you're assisting an elder or a handicapped loved one, the Portable Lift Aid™ provides everyone with unmatched safety and convenience. Help users sit, stand, and walk around letting them hold onto the Portable Lift Aid™.
Moving Your Heavy Furniture & Appliances Can Be A Struggle!
This ingenious product is here to put an end to your troubles
Forget trying to move heavier pieces of furniture and appliances around by yourself, avoid the possibilities of injuring yourself in the process by using our specially designed furniture lifter and wheels. With this set of tools, you can easily lift and slide pieces of furniture from one place to another allowing you to clean more efficiently or just rearrange your space quicker and easier.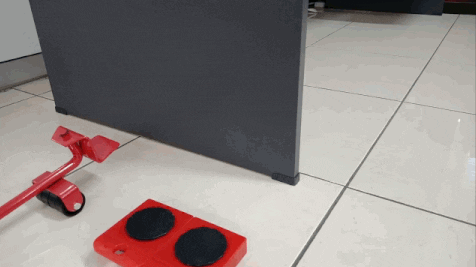 Moving & Cleaning Your Home Has Never Been Easier
This set of tools is very easy to use and can be used by anyone. To use the furniture lifter slightly lift the desired piece of furniture or appliance and then place the rollers underneath, allowing you to easily glide pieces of furniture across any type of floor with ease.
Widely Applicable Across All Types Of Furniture
The moving pads are strong and sturdy enough to support the heaviest of objects. Use them for your couch, refrigerator, oven, cabinet, washing machine, bookcase, you name it and you can move it! The revolutionary designed wheels have a load-bearing of up to 330 lbs (150 kg)! So you can rest assured that they are suitable for any job.
More Reasons To Love This Tool
The moving pads have a 360° function allowing you to rotate the furniture with ease.

The Lifter tool has an ergonomically designed hand lever to make it easier to lift your furniture

.

Non-slip pads placed on top of the rollers to help furniture from sliding off the rollers while being moved.
Package Includes:
1x Red Furniture Lifter

4x Red Moving Rollers
Frequently Asked Questions