This offer is not available in stores
A Safer Way For Elders To Stand And Sit
Sitting and standing gets more and more difficult the older you get, which is why the Portable Lift Aid™ is essential for your elder's safety. The Portable Lift Aid™ makes moving your elders more convenient due to its straightforward design and sturdy gripping handles.
Equipped with curved handles, the Portable Lift Aid™ provides a good grip for both the elder and the person that's assisting. This way, lifting a person's full body weight won't be too much of a challenge for anybody assisting.
Key Benefits
Portable design - Despite its multipurpose design, the Portable Lift Aid™ is extremely lightweight and easy to carry on the go. This way, you can be sure to give your elders the assistance that thev need wherever you go.

Ergonomic handles - With its curved design, both ends of the Portable Lift Aid™ are easy to hold onto. This prevents the user from letting go of the handle while being lifted up.

Durable structure - Even with its portable design, the Portable Lift Aid™ is extremely durable and heavy-duty, It is capable of lifting up more than double an adult's body weight with ease.

Versatile use - Whether you're assisting an elder or a handicapped loved one, the Portable Lift Aid™ provides everyone with unmatched safety and convenience. Help users sit, stand, and walk around letting them hold onto the Portable Lift Aid™.

Make washing dishes faster and cleaner, no messy, no dripping and dragging.
Fill the soap pump with your favorite detergent and then use the attached sponge to press down on the pump. This will distribute the proper amount of detergent to the sponge. When you need more, just pump another dose of soap.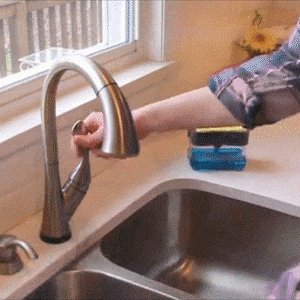 Main Features
Innovative Design
The two-in-one soap dispenser is easy to use and fill by simply removing the top of the soap dispenser, then pouring it out from the top and refilling it. Precise and easy dispensing.


No Waste
No messy, dripping or dragging. Unlike other manual and automatic dispensers, this dispenser will completely remove soap after pumping and prevent waste.


Versatile
Best for homes, schools, offices, hospitals, hotels, restaurants, factories, airports, gas stations, etc. Ideal for business and public places.


Excellent Quality
Made of solid ABS plastic, excellent durability, durability and corrosion resistance, well designed and rustproof. Any other sponge or scrubber can also be used.
Package Includes:

1x 2-in-1 soap dispenser and sponge caddy
1x sponge
Frequently Asked Questions